Major Wine Regions
Lesson Objectives:
Understand the difference in philosophy between the Old and New wine regions. Learn the key wine regions in France, Italy, and Spain. Know the regional specialty and the reliable producers.
Old World vs New World
Wine regions can be categorized into Old Worlds and New Worlds. Old world wine regions date back to the Roman Empire era and include France, Italy, Germany, and Spain. These European regions had years to witness the impact of terroir (local soil) on wine production and refine their vinification methodology. They emphasize terroir and traditions in vinification.
The New World wine regions include Australia, America, Latin America, South Africa, and New Zealand. In most cases, viticulture knowledge was introduced by foreign settlement and invasions. Without centuries of terroir knowledge, these regions rely on technology and modern method to obtain good yield and quality wines.
Differences between New World and Old World wines: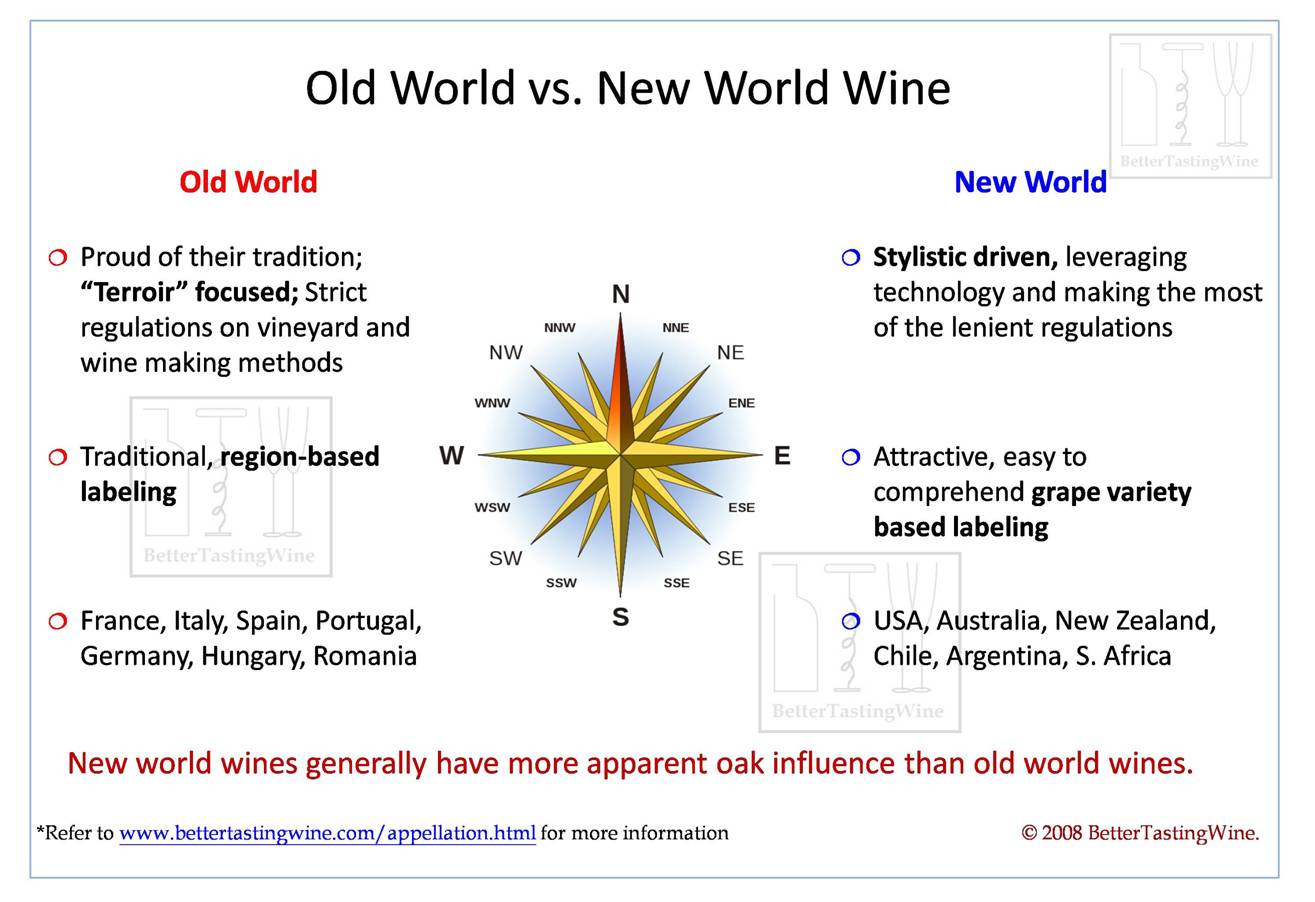 Style: Old world wines, emphasizing traditions and terroirs, are earthier, more minerally, and more tannic. Relying more on technology than traditions, new world wines are fruiter, less tannic, and creamier.

Naming and wine label: Most New world regions label their wines by grape variety. Most old World wine regions label their wines by appellations (regions); for example Pauillac, Margaux, and St Julien are all French appellations that produce Cabernet Sauvignon.
Click the image below to learn more about a specific wine country, its key wine producing regions and appellation standards.
Go to Lesson 10: Wine Storage & Cellaring
Stay informed. Follow us and subscribe here to get our latest wine insider news and tips:
Practical Wine Lessons: Wine Tasting Like a Pro | Grapes | Serving Wine | Food Pairing | Preservation | Temperature | Restaurant Ordering | Wine Labels | Wine Regions | Wine Storage | Start a Collection | Common Wine Myths.
Useful Wine Tips: Ten Facts to Become an Instant Wine Pro | Vintage Guide | Removing a Broken Cork | Serving Order of Wines | Fastest Way to Chill a Wine | Host Wine Party | Elements of a Good Wine | Wine Investment "Winning" Guide | Leftover Wine: Recipe for Vino Punch | Freeze Your Leftover Wine | Wine Moods Pairing | Best Way to Preserve Champagne After Open | Ten Must-Have Wine Accessories.
Tasting Tutorial: Cabernet vs. Merlot vs. Pinot Noir | Sauvignon Blanc vs. Chardonnay vs. Riesling | Burgundy vs US vs New Zealand Pinot Noir.
Fun Download: Wine Tasting Scorecard | Wine Serving Temperature Chart | Wine Aroma Table | 3 Must-Know Red Grapes | 3 Must-Know White Grapes | Vintage Chart | Wine Party Themes | Wine Region Maps | Grand Cru Chart | Wine and Moods Pairing Chart | Wine Quotes & Wine Humor.
Travel & Exploration: Champagne 101 | Bandol | Italy | Spain | Sherry.
Jewels & Gems: Grower Champagne Pierre Gimonnet | Gravner Ribolla - An Amber Wine Maturated in Clay | Gaja - King of Barbaresco.