Starting a Wine Collection
Lesson Objectives:
Tips on starting your first wine collection. Know which wines are not meant for aging.
3 Things You Have to Know
Wine storage can be relatively hassle-free if you plan to drink your wine within couple months. If however, you want to invest in a collection of ageable wines and store them for couple years, then you have to be aware that:
Not all wines are created to be aged. Most wines are best enjoyed within 1-5 years of its release.
Improper storage can easily ruin your wine.
Wine's value decrease after its prime time.
(1) What wine is ageable:
If a wine lacks fruit concentration and structure, aging it in a bottle will not make it better. Rather, it will just mean you will pass its optimal enjoyment window.
Ageable wines are tannic, acidic, well-structured, and complex. Tannins, the natural preservatives that come from the grape's skin, will soften as time passes. It will round up the wine, bringing out its best bouquet and balance.
Wines capable of long aging (8+ years): Premium Bordeaux, California Cabernet Sauvignon, Barolo, Barbaresco, Rioja Gran Reservas, Hermitage (Syrah), Grand Cru Burgundy, Amarone, Vintage Port.
Wines best enjoyed between 3-5 years: Everyday Bordeaux / Cabernet Sauvignon, Burgundy / Pinot Noir, Chianti, Zinfandel, Merlot, Brunello, Rioja.
Grapes meant for early enjoyment (not for aging): Gamay / Beaujolais, Valpolicella, Bardolino, Carignan, light Zinfandel, table / box wine.
A general rule of thumb using price as an indicator –
Wines under $25 are best drunk in 3-5 years. If you want to keep a collection for 5+ years, invest in wines over US$40+ and make sure they are harvested in good vintages.
(2) Ensure friendly cellar environment:
Temperature, light, and humidity are the three crucial factors to monitor [Refer to lesson on wine storage].
Ideal range of temperature for storing red wine is 50-55ºF or 10-16ºC. Ideal humidity for wine storage ranges from 60-75% RH.
Depending on the size of your collection, you can buy a wine fridge, turn your basement / spare room into a wine cellar, or rent a wine storage facility (e.g. a temperature controlled wine warehouse). Regardless of your choice, be sure to set and monitor the temperature, humidity, and aging period. Some collectors invest in wine storage software to manage their collection.
Just like all goods, the condition of the wine bottle and wine label will have an effect on its value. If you plan to resell your collection, take extra precaution to monitor the humidity level and use label protectors to avoid potential label damages.
(3) Best time to drink / sell your collection: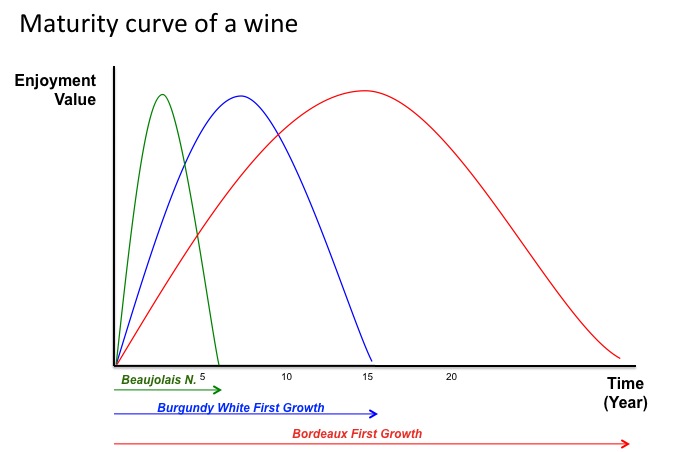 Wine's value drops after its ideal maturity. The ideal maturity differs for each grape, and is affected by its region and vintage. For example, a premium Bordeaux (based on the thick-skinned Cabernet Sauvignon grapes) might take 15 years to open up; whereas a premium Burgundy (based on the thin-skinned Pinot Noir grapes) would reach its peak in 8 years. The figure on the right illustrate the different maturity for different type of wines.
You can find out the recommended aging period for a specific wine from various online resources such as Wine Spectators and Robert Parker. If you plan to sell your wine, you will get the best price 1-3 years before the recommended serving time.
Final tips on starting your wine collection:
It all starts with a good bottle. No matter how great the cellaring condition is, you cannot revive a damaged bottle.
Look for discounts when buying in case volume.
Try one before you buy a dozen… or at least, review online tasting notes before your investment.
If you are buying wine future (en primeur), choose a merchant with sound financial and social standing.
Last but not least, if you are cellaring investment grade wines that could be auctioned off in the future, it is best to keep them in the original packaging (usually wooden cases). Do keep track of your storage history from purchase to sales. Wines with sub-optimal storage condition are often sold at discount. Click here for our Expert Wine Investment Guide and Tips.
Go to Lesson 12: Avoid Common Wine Myths
Go to Wine Investment Guide: Do's and Don'ts
Stay informed. Follow us and subscribe here to get our latest wine insider news and tips:
Practical Wine Lessons: Wine Tasting Like a Pro | Grapes | Serving Wine | Food Pairing | Preservation | Temperature | Restaurant Ordering | Wine Labels | Wine Regions | Wine Storage | Start a Collection | Common Wine Myths.
Useful Wine Tips: Ten Facts to Become an Instant Wine Pro | Vintage Guide | Removing a Broken Cork | Serving Order of Wines | Fastest Way to Chill a Wine | Host Wine Party | Elements of a Good Wine | Wine Investment "Winning" Guide | Leftover Wine: Recipe for Vino Punch | Freeze Your Leftover Wine | Wine Moods Pairing | Best Way to Preserve Champagne After Open | Ten Must-Have Wine Accessories.
Tasting Tutorial: Cabernet vs. Merlot vs. Pinot Noir | Sauvignon Blanc vs. Chardonnay vs. Riesling | Burgundy vs US vs New Zealand Pinot Noir.
Fun Download: Wine Tasting Scorecard | Wine Serving Temperature Chart | Wine Aroma Table | 3 Must-Know Red Grapes | 3 Must-Know White Grapes | Vintage Chart | Wine Party Themes | Wine Region Maps | Grand Cru Chart | Wine and Moods Pairing Chart | Wine Quotes & Wine Humor.
Travel & Exploration: Champagne 101 | Bandol | Italy | Spain | Sherry.
Jewels & Gems: Grower Champagne Pierre Gimonnet | Gravner Ribolla - An Amber Wine Maturated in Clay | Gaja - King of Barbaresco.