Use Wine Label to Your Advantage
Lesson Objectives:
Be able to pick up a good bottle when shopping for wine. Learn the clues on the label that indicates the characteristics of the bottle. Know terms that imply quality and terms that sound prestigious but do not guarantee quality.
5 Elements that Indicates if it's Worth Buying
There are 5 pieces of information on a wine label that can help you determine if it a bottle is worth its price:
1. Grape Variety (or Appellation): grape variety tells you the typical aroma, the body, the palate and if the bottle is capable of aging. For grape characteristics, visit our wine lesson on basic grapes.
Old world wine producing contries such as France, Spain, and Italy generally specify appellation rather than grape variety on the label. Appellation is the place of origin. Each appellation has its own rule on grape and production method. For example, the Barolo appellation red wine can only be made from the Nebbiolo grape.
2. Producer: tells you most about the expected wine quality and quality consistency.
In Burgundy, producer is the also best indication of expected quality. Vineyards are classified as Grand Cru, Premier Cru, and Village grade in Burgundy. However, even quality in Grand Cru vineyard fluctuates widely. To ensure a delicious bottle, follow the producer!
In Bordeaux, the 1855 Classification is often perceived as a quality ranking (63 producers were rated as Grand Cru Classe). While valid to some degree, there are plenty of quality producers such as Vieux Chateau Certain, Smith Haut Lafitte that are not part of the classification but produce excellent wines.
3. Region & Vineyard: hints the expected style, intensity, and flavor. A Bordeaux everyday red is generally more earthy, medium body, and has lighter alcohol than an everyday Cabernet Sauvignon from Napa Valley.
Region is of particular importance in Burgundy where communes are strictly regulated by natural climate and terroir. A burgundy from Gevrey Chambertin is more masculine than a burgundy from Vosne Romanee.
Knowledge of vineyard matters as different vineyards can command different prices. The Italian famed producer Giacosa for example makes many wines, some estate grown and some purchased. Its Le Rocche del Falleto 2004 (single vineyard, red label) is retailing at US$600; Its Santo Stefano di Neive 2004 (purchased grape, white label) is retailing at US$190 per bottle. Not knowing the vineyard difference could result in an overpriced purchase.
4. Vintage: or the year the wine is produced – reveals the grape quality, the ability to age, and the best time period to drink the wine.
Vintage is very important for climate sensitive regions. Wines from the same producers can have different retail pricing over different years, as per the illustration below: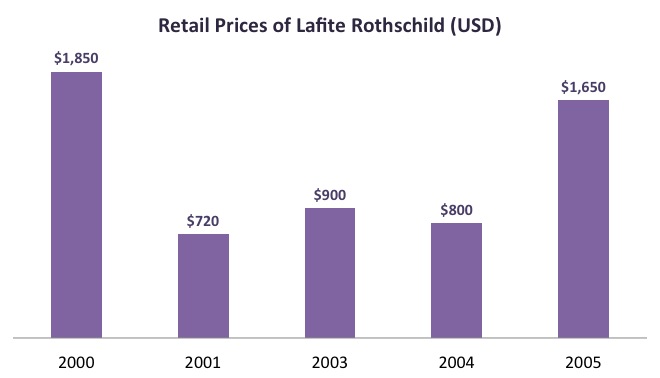 5. Alcohol level: implies the body and sweetness of a bottle of wine. Above 14% wines are full-bodied and more tannic. At or above 18% implies a fortified wine (such as Port and Sherry).
Note that sweeter and lighter wines generally have alcoholic level below 11%. Sugar from grapes is tranformed into alcohol during the fermentation process.
Wine Label Terms that Imply Quality
AOC / DO / DOC / DOCG: Appellation terminology that indicates a higher quality wine.
Grands Cru or Premiers Cru: Throughout Europe in Burgundy, Champagne, Alsace, Mosel, vineyards are categorized into village, premier cru, or grand cru. A grand cru vineyard is determined by regulatory body and has much stricter viticultural requirement.
For example in France, the top 1% of Burgundy wines would be labedled Grands Cru; and only 10% of Burgundy wines would fall into the Premiers Cru category. The rest is the village grade.
"Recoltés": Implies quality on a burgundy or a champagne wine label. It means estate grown grapes (i.e. not purchased grapes). Many negociants and Champagne house buy grapes to make their main wines.
The best wines require the best ingredients (i.e. the best grapes) to make. Wine collectors and wine lovers prefer estate grown wines as they imply higher quality, reflect producer's philosophy, and a more rigorous viticultural process. Seller of grapes are often incentized and go for quantity and weight over quality.
Riserva / Reserva / Gran Reserva: In Spain and Italy, riserva / reserva implies wines that have been aged in oak and bottle for an extended period before release. The additional aging allow the wine to gain more character as well as integrate its elements. In Spain, gran reserva requires a even longer aging period in oak and bottle before release.
The maturation requirement differs across regions. For example, a Chianti Riserva only requires 27 months of oak and bottle aging prior to release. A Brunello di Montalcino Riserva on the hand, requires a minimum of 5 years. This difference in production helps explain why Brunello is so much pricier than its cousin Chianti.
Vieilles Vignes (old vines): the wine is made from grapes grown on old vines, usually over 40 years old. Old vines have lower grape yield but produces grapes with richer flavors.
It is good to note that there is no consistent regulatory definition on old vines. A wine made from 80 year old vines and a wine made from 25 year old vines could both be labelled as old vines.
Wine Label Terms that Do Not Guarantee Quality
Sophisticated marketing in the past decades have resulted in vastly attractive and premium looking wine labels. Below are wine terms that look grand but in reality, offer no quality assurance:
"Superieur" describes a bottle with a higher alcohol level rather than being superior.
"Grand Vin" means the main wine of the vineyard rather than grand wine.
"Reserve" means extra aging but is so commonly marked on bottles (and has no commonly agreed standards) that it provides minimal / no differentiation.
"Cuvee" may implies a higher price line of a winery, but it is a price guarantee more than a quality guarantee.
Example 1: Reading a Old World Wine Label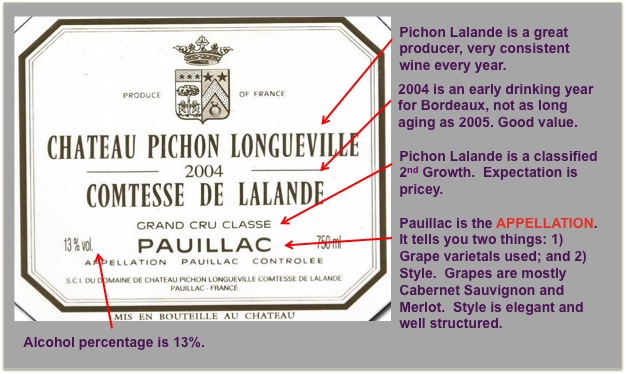 Example 2: Reading a Burgundy Wine Label

Go to Lesson 9: Wine Regions
Stay informed. Follow us and subscribe here to get our latest wine insider news and tips:
Practical Wine Lessons: Wine Tasting Like a Pro | Grapes | Serving Wine | Food Pairing | Preservation | Temperature | Restaurant Ordering | Wine Labels | Wine Regions | Wine Storage | Start a Collection | Common Wine Myths.
Useful Wine Tips: Ten Facts to Become an Instant Wine Pro | Vintage Guide | Removing a Broken Cork | Serving Order of Wines | Fastest Way to Chill a Wine | Host Wine Party | Elements of a Good Wine | Wine Investment "Winning" Guide | Leftover Wine: Recipe for Vino Punch | Freeze Your Leftover Wine | Wine Moods Pairing | Best Way to Preserve Champagne After Open | Ten Must-Have Wine Accessories.
Tasting Tutorial: Cabernet vs. Merlot vs. Pinot Noir | Sauvignon Blanc vs. Chardonnay vs. Riesling | Burgundy vs US vs New Zealand Pinot Noir.
Fun Download: Wine Tasting Scorecard | Wine Serving Temperature Chart | Wine Aroma Table | 3 Must-Know Red Grapes | 3 Must-Know White Grapes | Vintage Chart | Wine Party Themes | Wine Region Maps | Grand Cru Chart | Wine and Moods Pairing Chart | Wine Quotes & Wine Humor.
Travel & Exploration: Champagne 101 | Bandol | Italy | Spain | Sherry.
Jewels & Gems: Grower Champagne Pierre Gimonnet | Gravner Ribolla - An Amber Wine Maturated in Clay | Gaja - King of Barbaresco.