How to Order Wine in a Restaurant
Lesson Objectives:
Learn the key consideration factors when deciding which wine to order. Know what to do when the sommelier present you the bottle. Learn when to send a bottle back.
What Wine to Order?
Ordering wine in a restaurant can be fun instead of intimidating. Several key consideration factors:
What is the occassion? Celebration could begin with a champagne.

What type of the dishes are being ordered? White Sauvignon Blanc and Riesling pair well with seafood and appetizers. Pinot Noir pairs well with poultry dishes and Cabernet Sauvignon is the perfect steak partner.

What is your budget and how many bottles will you be ordering? Think ahead, if you guests will consume more than 1 bottle, do you want to start with a Champagne or white? The second wine should be fuller bodied and more complex than the first wine.

Is this a good producer and a "safe" vintage? Choosing a good producer often results in a delicious bottle. A safe vintage means avoid mature bottles as there is a high likelihood of it being past prime or oxidized.
Leverage the Sommelier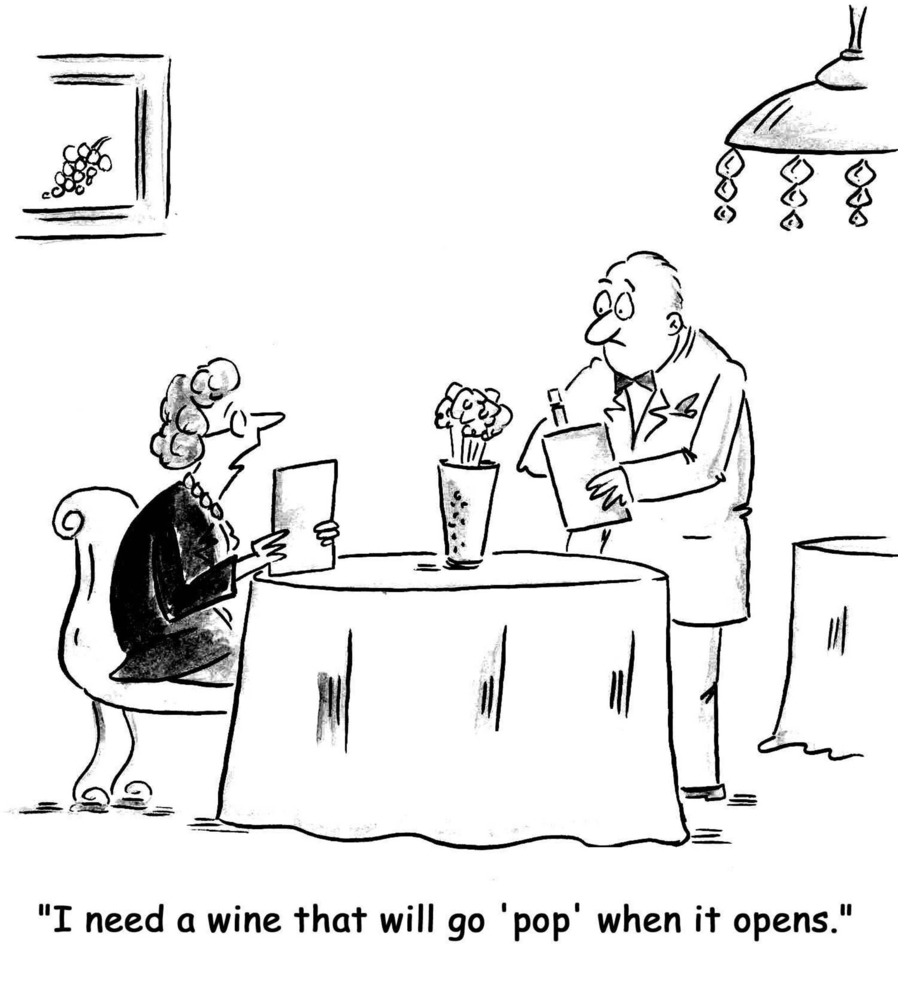 A smart thing that few people do --
If you are ordering a bottle that is a house wine, ask the sommelier if you can taste a little before you order a bottle. Usually they will happily let you do that.
When debating what to order, use the sommelier. Be specific in order to get a solid and helpful answer. Below are some practical questions to ask:
Have you tasted this wine before? How would you describe the body and character of this bottle?

What is/are the grape(s) for this wine?

Is this white wine oaked? (An oak white would not go well with raw seafood)

(If a mature vintage) is this bottle fully developed? Any risk of it being past prime? (This is important so you have higher chance of returning a bottle if it is past-prime).
How to Check if the Bottle is Good?
When the sommelier present the bottle in front of you, check that it is the wine you have ordered. Make sure it is the right producer, appellation / field, and vintage.
With your approval, the sommelier will then open the bottle, lay the cork in front of you, and pour you a small tasting glass.
Do not smell the cork. It does not tell you if the wine is faulty or not. Instead give the glass a gentle swirl, and do the clean test (refer to the wine tasting lesson).
Return the bottle if it is corked or oxidized. It is estimated that 3-5% of the wines in this world is corked. Probability is not high, but still there. Signs of corked wine: cardboxes notes.
For house or mature wine, make sure you check for oxidation. Signs of possible oxidation: sherry nose, brown or orange in color, an extremely dry cork that falls apart at opening.
Excessive sulfur could be a fault as well, though not as common as an oxidized or corked wine. Signs of excessive sulfur: foul, rotten eggs.
Ensure the Best Serving Condition
If the wine has a clean nose, give it another swirl, sniff, and a generous sip.
Determine if the proper glassware is being used, if the serving temperature is optimal, and whether aeration / decanting is required. (refer to the how to serve wine).
Go to Lesson 8: Wine Labels Decoded
Stay informed. Follow us and subscribe here to get our latest wine insider news and tips:
Practical Wine Lessons: Wine Tasting Like a Pro | Grapes | Serving Wine | Food Pairing | Preservation | Temperature | Restaurant Ordering | Wine Labels | Wine Regions | Wine Storage | Start a Collection | Common Wine Myths.
Useful Wine Tips: Ten Facts to Become an Instant Wine Pro | Vintage Guide | Removing a Broken Cork | Serving Order of Wines | Fastest Way to Chill a Wine | Host Wine Party | Elements of a Good Wine | Wine Investment "Winning" Guide | Leftover Wine: Recipe for Vino Punch | Freeze Your Leftover Wine | Wine Moods Pairing | Best Way to Preserve Champagne After Open | Ten Must-Have Wine Accessories.
Tasting Tutorial: Cabernet vs. Merlot vs. Pinot Noir | Sauvignon Blanc vs. Chardonnay vs. Riesling | Burgundy vs US vs New Zealand Pinot Noir.
Fun Download: Wine Tasting Scorecard | Wine Serving Temperature Chart | Wine Aroma Table | 3 Must-Know Red Grapes | 3 Must-Know White Grapes | Vintage Chart | Wine Party Themes | Wine Region Maps | Grand Cru Chart | Wine and Moods Pairing Chart | Wine Quotes & Wine Humor.
Travel & Exploration: Champagne 101 | Bandol | Italy | Spain | Sherry.
Jewels & Gems: Grower Champagne Pierre Gimonnet | Gravner Ribolla - An Amber Wine Maturated in Clay | Gaja - King of Barbaresco.