Download Wine Aroma Chart
A good wine tasting note help you visualize and relive your wine tasting experience. It is not just descriptive, but precise on the characteristics and aromas of the wine. Our wine aroma chart / tasting note aid is designed to help you achieve this.
Practice Exercise: Take several good sniffs of your wine to identify the types of aroma present: fruity, floral, nutty, earthy, herby, spicy, or bad. The below tasting note aid, categorized by aroma type, will help you narrow down from broad category to specific impressions.
The yellow-highlighted columns contain useful description to help you better remember the overall strengths and impressions of the wine.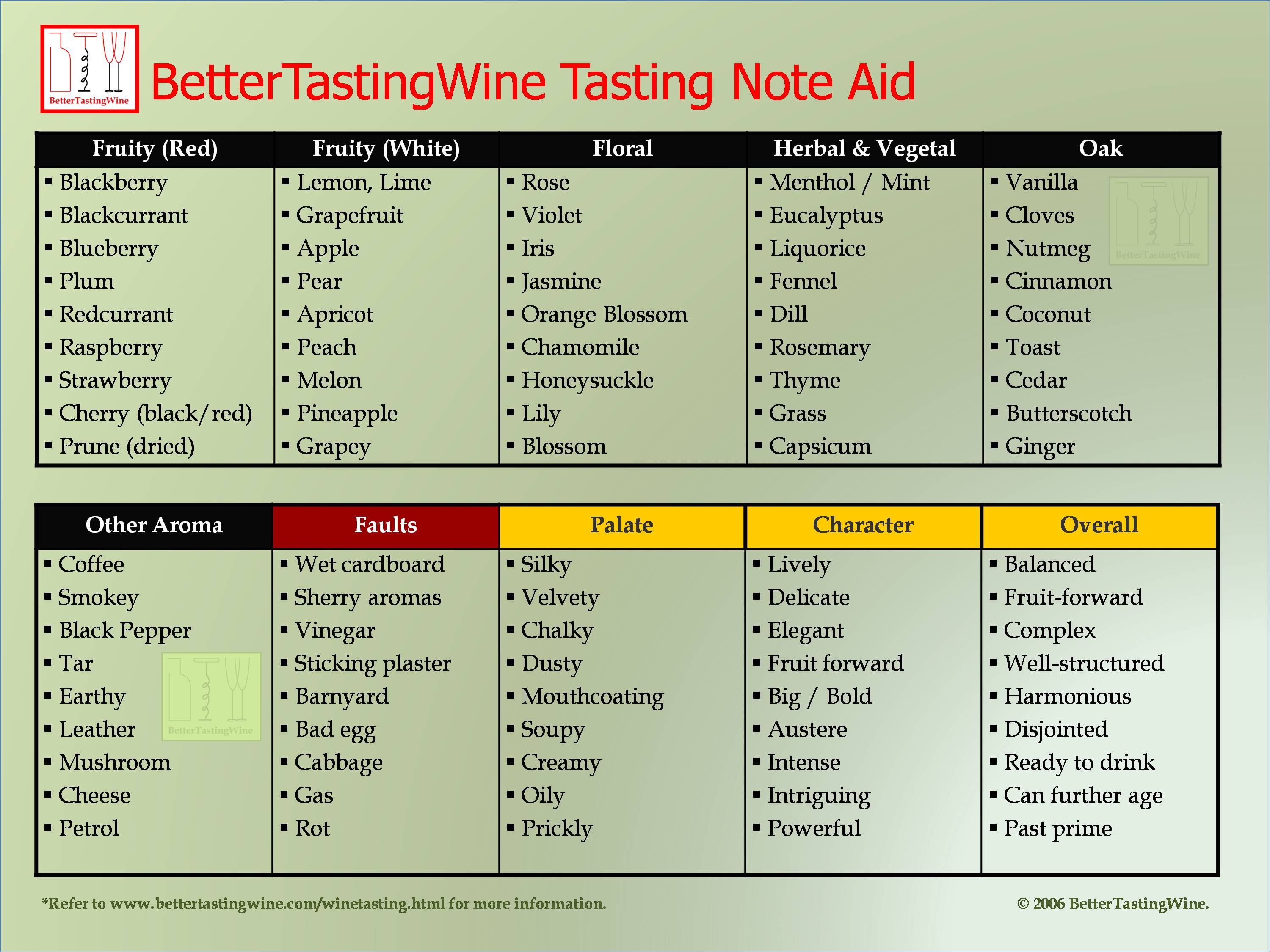 To download a pdf version, click here or anywhere on the above picture.
Note: Download is free for personal use. If for commercial or broader community purpose, please contact us.
For more information, please visit our wine lesson "What to Do in Wine Tasting".

Stay informed. Follow us and subscribe here to get our latest wine insider news and tips:
Practical Wine Lessons: Wine Tasting Like a Pro | Grapes | Serving Wine | Food Pairing | Preservation | Temperature | Restaurant Ordering | Wine Labels | Wine Regions | Wine Storage | Start a Collection | Common Wine Myths.
Useful Wine Tips: Ten Facts to Become an Instant Wine Pro | Vintage Guide | Removing a Broken Cork | Serving Order of Wines | Fastest Way to Chill a Wine | Host Wine Party | Elements of a Good Wine | Wine Investment "Winning" Guide | Leftover Wine: Recipe for Vino Punch | Freeze Your Leftover Wine | Wine Moods Pairing | Best Way to Preserve Champagne After Open | Ten Must-Have Wine Accessories.
Tasting Tutorial: Cabernet vs. Merlot vs. Pinot Noir | Sauvignon Blanc vs. Chardonnay vs. Riesling | Burgundy vs US vs New Zealand Pinot Noir.
Fun Download: Wine Tasting Scorecard | Wine Serving Temperature Chart | Wine Aroma Table | 3 Must-Know Red Grapes | 3 Must-Know White Grapes | Vintage Chart | Wine Party Themes | Wine Region Maps | Grand Cru Chart | Wine and Moods Pairing Chart | Wine Quotes & Wine Humor.
Travel & Exploration: Champagne 101 | Bandol | Italy | Spain | Sherry.
Jewels & Gems: Grower Champagne Pierre Gimonnet | Gravner Ribolla - An Amber Wine Maturated in Clay | Gaja - King of Barbaresco.