Host a
Blind

Wine Tasting Party

It is easy to make your wine tasting party special and memorable. Make it "blind" and give it a theme.
In a blind tasting, the guests will not know what they are tasting. You don't have to blindfold your guests; but you do have to wrap your bottles to conceal their identities.
Pick a Fun Wine Theme
Theme gives the event a purpose, a game, and a discussion topic. We have listed some of our all time favorite themes. Free feel to use them.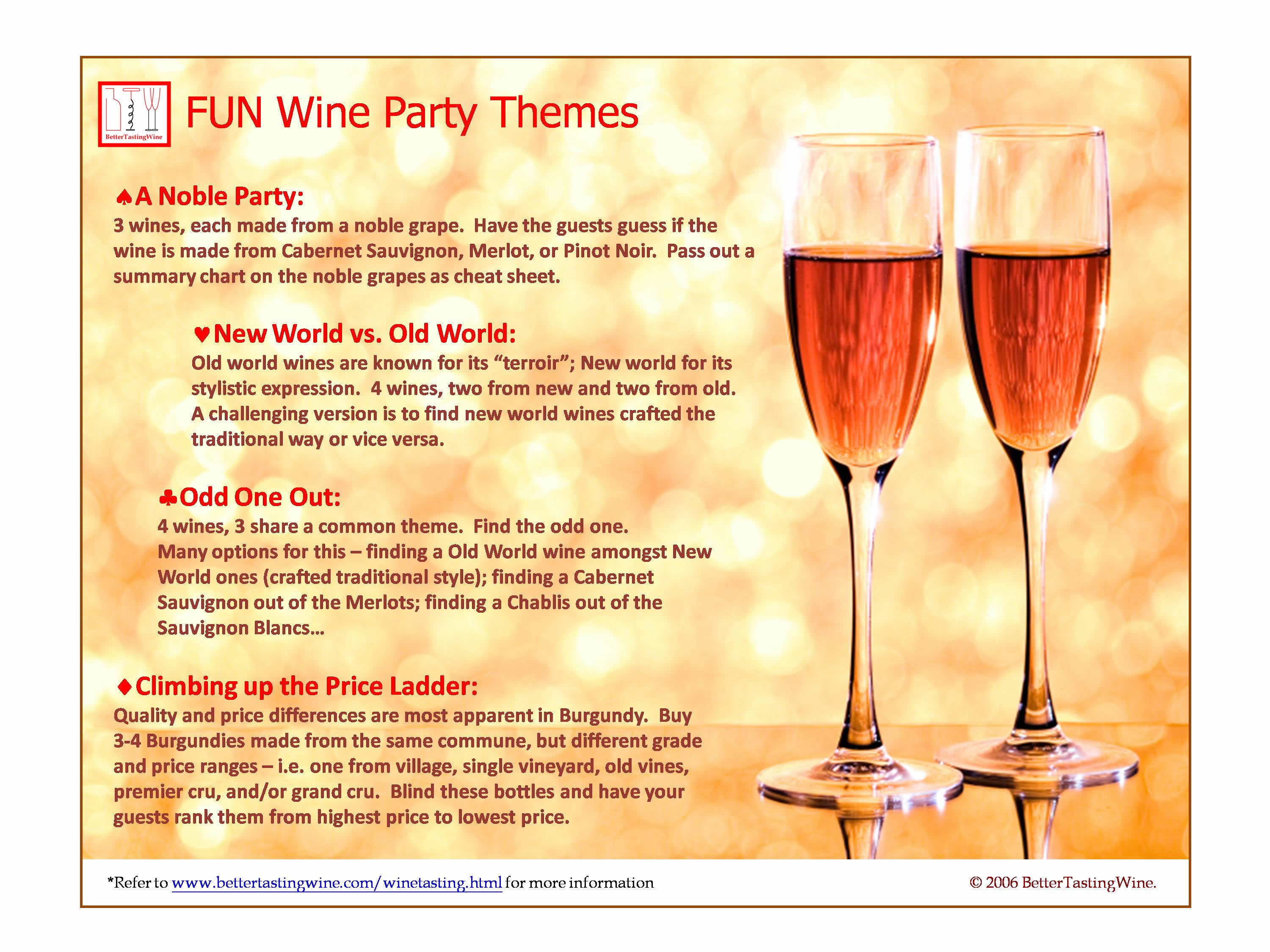 Planning and Preparation
Guest Size: Each 750 ml bottle can pour 6-12 tasting portions, depending on your glass size. If you have more than 12 guests, you may want to have 2 bottles of each wine.
Blinding Your Wine: Cover each wine with alumnium foil (it will look nice) or you can put each bottle in a brown bag. Use tape or rubber bands to secure it in place. Label them alphabetically (A,B,C…) Using numbers can get quite confusing when you are sharing your tasting notes and scores.
If you are working with fine wine, you will want to serve them in an order that will not understate their aroma and characteristics. Refer to wine serving order.
Print-Outs: Prepare a wine tasting scorecard and answer sheet for your guests. This preparation will make your night so much easier – they save you from explaining yourself hundred times. Also, your guests will learn more about wine.
Food: Serve bread on the side. Prepare (or cater) finger food. Pick food that can help rinse the pallet without overshadowing the wines. Select cheese that pair well with the wine [refer to wine pairing].
Water: Have a jug of water and a water bucket out so your guests can rinse their glass between each tasting.
Prize: Prepare a prize for the winner. Or grant him/her certain privileges... such as exempted from hosting the next party... or helping you clean up.
Final Tips..
Organize the wine tasting so your guests move from whites to reds, from sweet to dry, and from light-bodied to full-bodied reds.

When thinking about themes, consider how many wine glasses you have available. In situation of limited wine glasses, it may make sense to do a blind tasting of different regions but using the same grape.
Tell your guests not to wear perfume, drink coffee, or smoke prior to tasting. Aroma gives the best hints in blind wine tasting.
Stay informed. Follow us and subscribe here to get our latest wine insider news and tips:
Practical Wine Lessons: Wine Tasting Like a Pro | Grapes | Serving Wine | Food Pairing | Preservation | Temperature | Restaurant Ordering | Wine Labels | Wine Regions | Wine Storage | Start a Collection | Common Wine Myths.
Useful Wine Tips: Ten Facts to Become an Instant Wine Pro | Vintage Guide | Removing a Broken Cork | Serving Order of Wines | Fastest Way to Chill a Wine | Host Wine Party | Elements of a Good Wine | Wine Investment "Winning" Guide | Leftover Wine: Recipe for Vino Punch | Freeze Your Leftover Wine | Wine Moods Pairing | Best Way to Preserve Champagne After Open | Ten Must-Have Wine Accessories.
Tasting Tutorial: Cabernet vs. Merlot vs. Pinot Noir | Sauvignon Blanc vs. Chardonnay vs. Riesling | Burgundy vs US vs New Zealand Pinot Noir.
Fun Download: Wine Tasting Scorecard | Wine Serving Temperature Chart | Wine Aroma Table | 3 Must-Know Red Grapes | 3 Must-Know White Grapes | Vintage Chart | Wine Party Themes | Wine Region Maps | Grand Cru Chart | Wine and Moods Pairing Chart | Wine Quotes & Wine Humor.
Travel & Exploration: Champagne 101 | Bandol | Italy | Spain | Sherry.
Jewels & Gems: Grower Champagne Pierre Gimonnet | Gravner Ribolla - An Amber Wine Maturated in Clay | Gaja - King of Barbaresco.