Great Wines of the World
October 31, 2014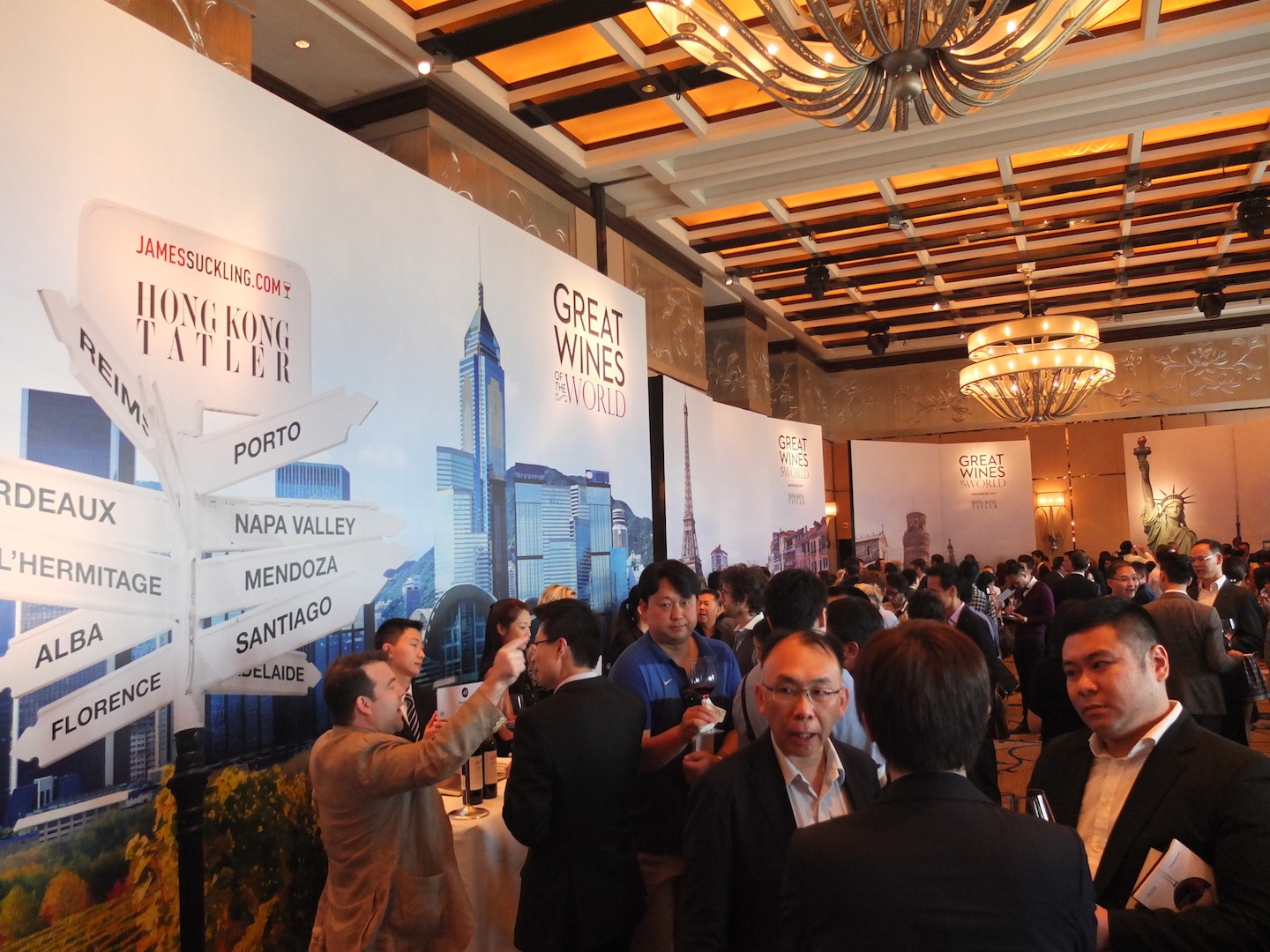 Organized by James Suckling and Tatler Hong Kong, as part of the Hong Kong's Wine and Dine Festival, The Great Wines of the World is an exciting annual wine event featuring 47 producers from all over the world.
The event is an indulging one -- All the wines have been rated 90 points or more by James Suckling; Lalique, the French crystal house, providing fine tasting glassware; An extensive selection of hard, soft, bluecheese to pair with the wide varieties of wines; and Champagned sponored by Billecart-Salmon. The best part is your wines are being poured by great producers from all over the world! That, got to be extreme indulgence, having great producers sharing their views on the vintage, the terroir, and their perspectives.
From Bordeaux, the fleet of wines include Mouton 2010 [rated 100-pts by James Suckling], Pichon Baron 2009, Les Forts de Latour 2008, Montrose 2005. Needless to say, it is like getting pass mad fans in a soccer game trying to get around to the wines.

From Rhone, Paul Jaboulet's La Petite Chapelle 2007 is featured. 2007 is always an interesting discussion when it comes to Rhone. While Southern Rhone has been very blessed with a vintage of excellent wines, Northern Rhone suffered similar climate difficulties as Bordeaux and Burgundy. Paul Jaboulet's La Petite Chapelle reflects the superiority of the winemaker as well as its terroir. While still young and need time to evolve, it wears the signature perfume of northern rhone and is velvety and well balanced.

Italy rivals Bordeaux in terms of great wines and producers being presented including Bruno Giacosa, Banfi, Ceretto, Damilano, Antinori, Sassicaia, and Pio Cesare. All worth a try! And be a sin to spit Roberto Voerzio's Case Nere 10 Anni Riserva 2004. Aged 10 years, only 460 cases made. What a rarity and indulgence!

The famed icons and rivals from Chile, Almaviva and Sena are both poured. Almaviva's 2010 vintage is a synonym for elegance; Sena's 2011 is a powerful architecture with many dynamic floors of fruits.

From Port, Dow's 1970 and 2011 are featured to show the fine maturing process of the great sweet wine. Niepoort, Quinto do Noval, and Taylor also poured.

Other wines poured include Peter Michael's L'Apres Midi 2012 and Cabernet Sauvignon Oakville Au Paradis 2011. Peter Michael commented they are making more Pinot Noir these days so allocations should be friendlier.. let's hope the pricing will be friendlier too.


Roberto Voerzio with his Case Nere 10 Anni Riserva. Aged 10 years, only 460 cases made. An indulgence indeed!
The "one"... and its mystery solved
While there are many great wines this afternoon.. my heart goes to Giacosa's Barolo Le Rocche del Falletto 2009. Everything is impeccable from aroma to palate to finish.
There are different "facts" on the web on Giacosa's Le Rocche. Some says it is the plot situated on top of Falletto; others say it is the same plot as Falletto just made from the best grapes. Luckily, I got to ask James Suckling. The truth is -- Le Rocche is made from a separate plot in the heart of Falletto.
Stay informed. Follow us and subscribe here to get our latest wine insider news and tips:
Practical Wine Lessons: Wine Tasting Like a Pro | Grapes | Serving Wine | Food Pairing | Preservation | Temperature | Restaurant Ordering | Wine Labels | Wine Regions | Wine Storage | Start a Collection | Common Wine Myths.
Useful Wine Tips: Ten Facts to Become an Instant Wine Pro | Vintage Guide | Removing a Broken Cork | Serving Order of Wines | Fastest Way to Chill a Wine | Host Wine Party | Elements of a Good Wine | Wine Investment "Winning" Guide | Leftover Wine: Recipe for Vino Punch | Freeze Your Leftover Wine | Wine Moods Pairing | Best Way to Preserve Champagne After Open | Ten Must-Have Wine Accessories.
Tasting Tutorial: Cabernet vs. Merlot vs. Pinot Noir | Sauvignon Blanc vs. Chardonnay vs. Riesling | Burgundy vs US vs New Zealand Pinot Noir.
Fun Download: Wine Tasting Scorecard | Wine Serving Temperature Chart | Wine Aroma Table | 3 Must-Know Red Grapes | 3 Must-Know White Grapes | Vintage Chart | Wine Party Themes | Wine Region Maps | Grand Cru Chart | Wine and Moods Pairing Chart | Wine Quotes & Wine Humor.
Travel & Exploration: Champagne 101 | Bandol | Italy | Spain | Sherry.
Jewels & Gems: Grower Champagne Pierre Gimonnet | Gravner Ribolla - An Amber Wine Maturated in Clay | Gaja - King of Barbaresco.